Jetsun Darma Ho Lynn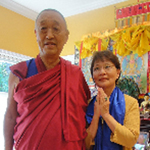 Jetsun Darma with His Holiness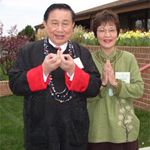 Jetsun Darma with Grandmaster Lin Yun.
Jetsun Darma (also known by her Chinese name, Ho Lynn) is the founder of Yuan Yuan Educational Foundation. She is a teacher, lecturer, writer, spiritual practitioner, and consultant. Jetsun Darma is her spiritual name from the Tibetan Bon tradition, (pronounced as རྗེ་བཙུན་དར་མ། Je Tsun Dar Ma in Tibetan), bestowed upon her by His Holiness, Lungtok Tenpai Nyima Rinpoche, Supreme Leader of the Tibetan Bon religion, worldwide in 2006.
Each syllable of her name is full of meaning. Je is Tibetan for "master," and Tsun means "purity." Jetsun, therefore, is "reverent, venerable sage." Dar means "young, strong, and everlasting." It also alludes to the name of Nunmo Darden, a female enlightened being in the ancient Bon tradition. Ma is the Tibetan word for "mother." Other than being addressed as Master Teacher Ho, Jetsun Darma's students simply address her as Jetsun Ma, as they feel that she is a loving, mother figure whose compassion helps them to remove obstacles from their lives.
Beginning in 1984 and spanning over a decade, Jetsun Ma volunteered her assistance to her root Feng Shui Master, H. H. Grand Master Lin Yun. Lin Yun is regarded as one of the foremost Feng Shui Masters of his era, also serving as spiritual leader to the religious movement he founded, Black Sect Tantric Buddhism, until passing in 2010. Over the years, Jetsun Ma's responsibilities evolved into becoming of his closest senior students, where she served as his teaching assistant, planning his course syllabus, creating audio-visual teaching aids, acting as his English translator, and assisting in his numerous private consultation sessions.
Jetsun Darma Ho Lynn holds a Masters degree in Family Development from the University of Iowa. She has been practicing feng shui for over three decades and teaching for over twenty years. Now regarded as a Feng Shui Master and Master Teacher, she has earned great respect for her persistent effort in guiding individuals toward and into spiritual cultivation practices. Commended for her charitable work in supporting Bon monks' education. She has worked extensively to preserve the ancient Bon medical tradition through education.
For more information visit Jetsun Darma Ho Lynn website or read her moving story Living Without A Known Cure