Speaking Engagements
Master Teacher Jetsun Darma Ho Lynn receives many invitations to lecture on a host of topics. Her engaging speaking style and distinguished expertise make a lasting impression on her audiences, both near and far.
Past themes include:
A Look into Chinese Lunar New Year from a Chinese Folk Custom and Tradition Perspective
The Current Zodiac Year (e.g., Pig, Tiger, Rabbit, etc.): forecast, expectations, and tips
Chi Analysis and Transcendental Solutions
Feng Shui Your Spring Garden
Feng Shui for a Healthy Body and Mind
The Art of Feng Shui
Feng Shui for Harmony
Interior Design with the Five Elements from the Chinese Folk Culture Perspective
Sell Your Listing Fast with Feng Shui
Feng Shui for Modern Day Living
Location! Location! Location! from the Feng Shui Perspective
Feng Shui for Real Estate Professionals
Building a Strong Foundation with Feng Shui
Feng Shui for Your Real Estate Success
Refining and Enhancing Your Feng Shui Practice through Spiritual Cultivation and Meditation of the BTB Tradition
All About Red String, Mirror, Crystal Ball, Wind Chime, Bamboo Flute, and Other Transcendental Objects: Mysteries, Functions, and Effective Applications Toward Feng Shui Practice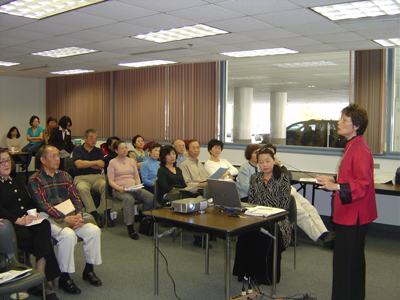 Jetsun Ma speaking at a public lecture
Jetsun Ma Ho Lynn is dedicated to sharing her extensive knowledge of Chinese folkloric traditions in an environment that nurtures and encourages the spiritual growth of her students. For 30+ years, she has lectured and presented seminars, also providing consultation services to top universities, major corporations, and community-level organizations. Contracts include: Stanford University, San Francisco State University, Brown University, MIT; Snaidero USA (NYC), R.M. Chin & Associates (Chicago), Trace Storage & Technology Company (Taiwan); Commonwealth Club (San Francisco), Friends of the Public Library (surrounding Bay Area locations); myriad real estate, architectural, and interior design companies; business associations; women and elderly community groups. Furthermore, Jetsun Ma accepts numerous speaking and teaching invitations from distinguished professional feng shui organizations, including the Feng Shui Academé of Seattle and the International Feng Shui Conferences. Currently, Master Teacher Jetsun Ma conducts classes, seminars, workshops, and private mentoring sessions pertaining to Life; Chinese folkloric culture, customs, traditions, philosophies, and beliefs; ch'i; and a practical approach to I-Ching, feng shui, spiritual cultivation, meditation, holistic healing, and other transcendental knowledge.
To invite Jetsun Ma Master Teacher Ho Lynn for talks, please contact YYEF office for Guidelines and scheduling.