2017 Barched Lamsel & New Year Event at Yuan Yuan
Morning Program (10:30 AM – 12:30PM):  "A Reading on the Year of the Rooster" by Jetsun Ma Master Teacher Holynn from the perspective of the Chinese cultural tradition.  The sacred teaching and analysis will be presented in English based on I-ching, the five Elements, the Chinese Zodiac, divination and more.
    
Afternoon Program (2:00PM – 5:00PM): The Bon ritual filled, wish fulfilling, obstacle eliminating sacred ceremony -"Barched Lamsel" is conducted by Jetsun Ma from the perspective of the Yungdrung Bon Lineage Tradition.
2016-06-05  The Three Heart Mantras of Bön
There are more than 150 volumes of direct teachings left to us from Lord Tonpa Shenrab, who is the founder of the Bön religion.  These teachings discuss purifying our poisons, realizing our Buddha nature and ultimately, achieving enlightenment.
2016-04-17 Pledge of Donation to Buddha Statues Project
2016 Yuan Yuan Lunar New Year Special Program
Morning Program (10:30 AM – 12:30PM):  "A Reading on the Year of the Fire Monkey" by Jetsun Ma Master Teacher Holynn from the perspective of the Chinese cultural tradition.  The sacred teaching and analysis will be presented in English based on I-ching, the five Elements, the Chinese Zodiac, divination and more.
Afternoon Program (2:00PM – 5:00PM): The Bon ritual filled, wish fulfilling, obstacle eliminating sacred ceremony -"Barched Lamsel" is conducted by Lama Youngtong Tenzin and Jetsun Ma from the perspective of the Yungdrung Bon Lineage Tradition.
2015 YYEF Ghost Month Special Program—Pacifying the Wandering Spirits.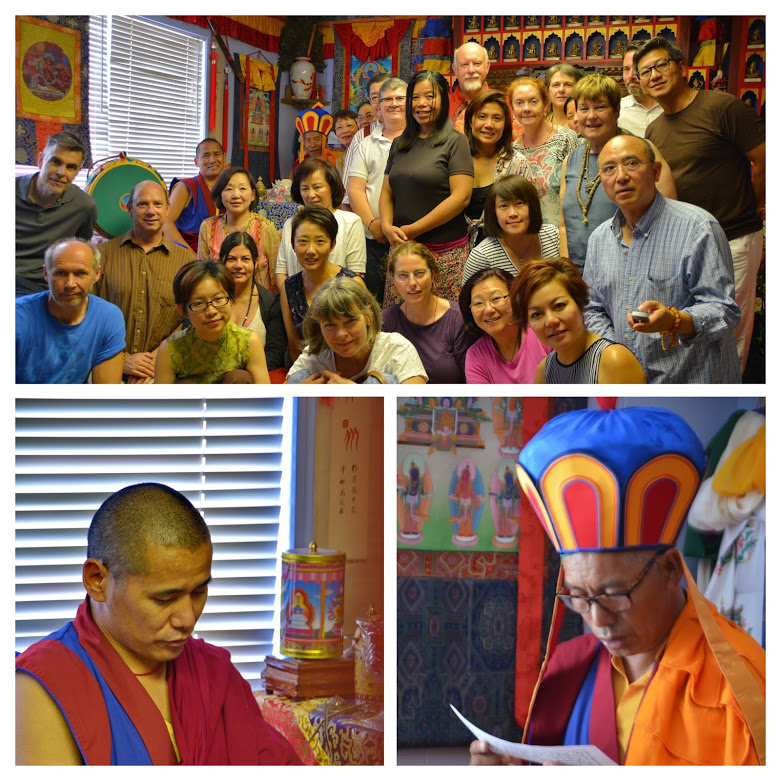 About Takla Mebar, the Flame Tiger God, is an enlightened wrathful deity. He strongly protects the Yungdrung Bon teachings and its followers against both enemies and wrong views. If one meditates on Takla Mebar as a yidam and accomplishes the recitation of his mantra, one may experience many rewards, including protecting one's life force and assistance in accomplishing one's personal goals. View photos for this event.
2014  Medicine Buddha Practice and Empowerment
As taught in the Tibetan Bon tradition originated with the Awakened One, Tonpa Shenrab Buddha. The Medicine Buddha is a compassionate manifestation of Tonpa Shenrab. On Day One program, Geshe Tenzin Yangton will prepare participants for the practice by offering teachings on the meditation and visualization of the Medicine Buddha. He will instruct on how we can use this practice to free ourselves from obstacles in lives, heal ourselves and others, and be protected from illness. He will also offer the transmission for this practice.
The ultimate ending of the two-day teaching on Medicine Buddha lies in the "Medicine Buddha Empowerment" on Day 2, a very sacred, powerful empowerment ceremony presided by Lopon Ponlob Rinpoche, and assisted by Geshe Tenzin. With Rinpoche's blessings, the door is opened to initiate firmly a practice on the Medicine Buddha path, and the practice will be strengthened to not only restoring one's energy, when practiced diligently, the practice helps in healing illness, even effectively helping others to heal. 
2014  a Sacred Bon Blessing and Empowerment Ceremony.
The Special Event is designed as an annual sharing of YYEF, which offers participator sacred blessings by means of prayer chant, ritual, mudra, along with our openly sincere, respectful heart.  Participator do not need to be an existing Buddha statue donor of our project–the "Pledge of Donation to Buddha Statue Project" to participate.  With sincerity, participation will bring ten-folds more blissful result to benefit everyone, and all these positive, auspicious energies received from such an event will extend to benefit participator's loved ones as well.
View more photos for this event.
2014 Year of the Horse celebration with a Bon ritual filled event – the Barched Lamsel event as known in Tibetan.
View more photos for this event.
 2014 Free Educational Program Update Readings on the Year of the Horse
Two free lectures were given by Jetsun Ma Master Teacher Ho on January 18 and 19 to English speaking and Mandarin speaking audiences respectively.  The topic was "Readings of the Year of the Horse."  Based on the perspectives of I-Ching, Bagua, and Chinese Zodiac concepts, Jetsun Ma gave valuable references relating to each of the 12 Zodiac signs. Before concluding, she shared helpful transcendental solutions to guide participants in welcoming the new year's challenges with a positive state of mind and practical methods.
2013 Intensive Workshop on "Feng Shui Knowledge for Contemporary Life Style"
A 20-hour intensive Workshop to build a strong foundation on Feng Shui knowledge for Comtemporary Life Style will be offered in March and April at YYEF Center  in Millbrae, CA. Jetsun Ma Master Teacher Ho will share her knowledge  with students  regarding Feng Shui, Chi Reading and Adjustment,  I-Ching, Five Element, Holistic Healing, Transcendental Solutions as well as Spiritual Cultivation and Meditation.  Please see below for schedule.
March workshop (presentation in Mandarin Chinese): March 9, 16, 23, 30
April workshop (presentation in English): April 6, 13, 20, 27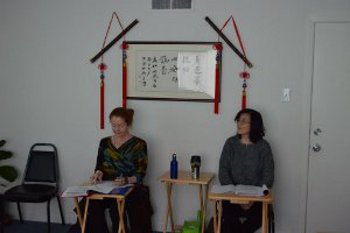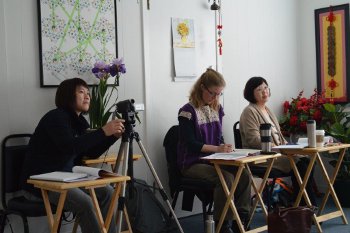 Some attentive students of Jetsun Ma at her Feng Shui workshop
2013 Pacifying the Wandering Spirits (消災祈福)
Starting August 7, ending September 5 is the Ghost Month in Chinese cultural tradition.  As believed, it is a time when the hell-gate opens and spirits of all kinds get to roam free in the Human Realm. Often they cause harm, unsettle peace and harmony, bring uneventful occurrence to upset our lives. In the past years, Jetsun Ma would always kindly offer her helpful advice by oral transmission, assist our supporters, friends, and students to confront the challenges the Ghost month might bring. This year, we are happy to gain strong support from, Lama Youngtong Tenzin, at the invitation of Jetsun Ma and YYEF's Board, will offer us a powerful experience based on the Red Garuda practice of the Tibetan Bon tradition to remove obstacles and all negative, harmful energies so that we will get past the Ghost Month without any difficulties.
 
Inner Ma Gyu Empowerment with H.E. Menri Lopon Rinpoche

September 21th ~22 th, 2013

 
Yuan Yuan Educational Foundation and Gyalsghen Institute are pleased to open public registration for the Inner Ma Gyu Empowerment with His Eminence Menri Lopon Trinley Nyima Rinpoche. The Ma Gyu, or Mother Tantra, is the highest tantra in the Yungdrung Bön tradition, and shares a view similar to that of Dzogchen or Nature Mind. The Ma Gyu is a path of transformation through the cultivation of compassion involving prayers for all sentient beings. It strives for the release of all beings from the bondage of suffering.
Long Life Empowerment(長壽佛灌頂)

September 23th, 2013

 
Historically, the arrival of Buddhism into Tibet in the 7th century led to many complex and difficult time for Bon. One of the great Bon masters, Drenpa Namkha, was the most well-known and important preserver of the Bon teachings. Drenpa Namkha had twin sons, one of them was Tsewang Rigzin and is considered as the main long life deity of Bon. Tsewang Rigzin studied with his father since young and was an enlightened great master himself. Especially recognized in his special gift of communicating with nonphysical masters, he was the first Bon master to teach how to enhance and retrieve the life force and soul.
It was said that Tsewang Rigzin, in his deep meditation state, received the special soul healing teaching transmitted by the dakini Yum Chen Thuk Je Kundrol. The teaching itself was identified as Tse Du Jha Ri Ma which composed of the long life empowerment rituals, soul retrieval, and life force retrieval. Traditionally in Tibet, Bon rinpoches would travel from town to town to perform the long life rituals to town's people. The related Long Life rituals help to facilitate healing and bringing harmony when times are troubled.
2013 One-Day-Intensive Workshop Programs 
A one day intensive workshop on "Floor Plan Analysis from the Feng Shui Perspective"  will be offered in October.  The seminar is deisgned for students to gain practical Feng Shui knowledge and learn critical applications to alter and adjust the Feng Shui environment of a home, an office or a community by analyzing floor plans.  Students are encouraged to bring floor plans that interest themselves to the classroom as teaching material.  Expertly, Jetsun Ma Master Teacher Ho will guides the class in a marvelous learning experience.
2014 Spiritual Cultivation Study Group (SCSG)
2014 Spiritual Cultivation Study Group (SCSG) meeting will kick off again on Sunday, Jan 27. Instructed by Lama Youngtong Tenzin, translated and co-instructed by Jetsun Ma Master Teacher Ho, the SCSG practice has strictly follows the ancient Tibetan Yungdrung Bon tradition. This group meets every second Sunday and the last Sunday of the month, and it has marched into its 9th year at YYEF.  No prior experience is required to join.
Programs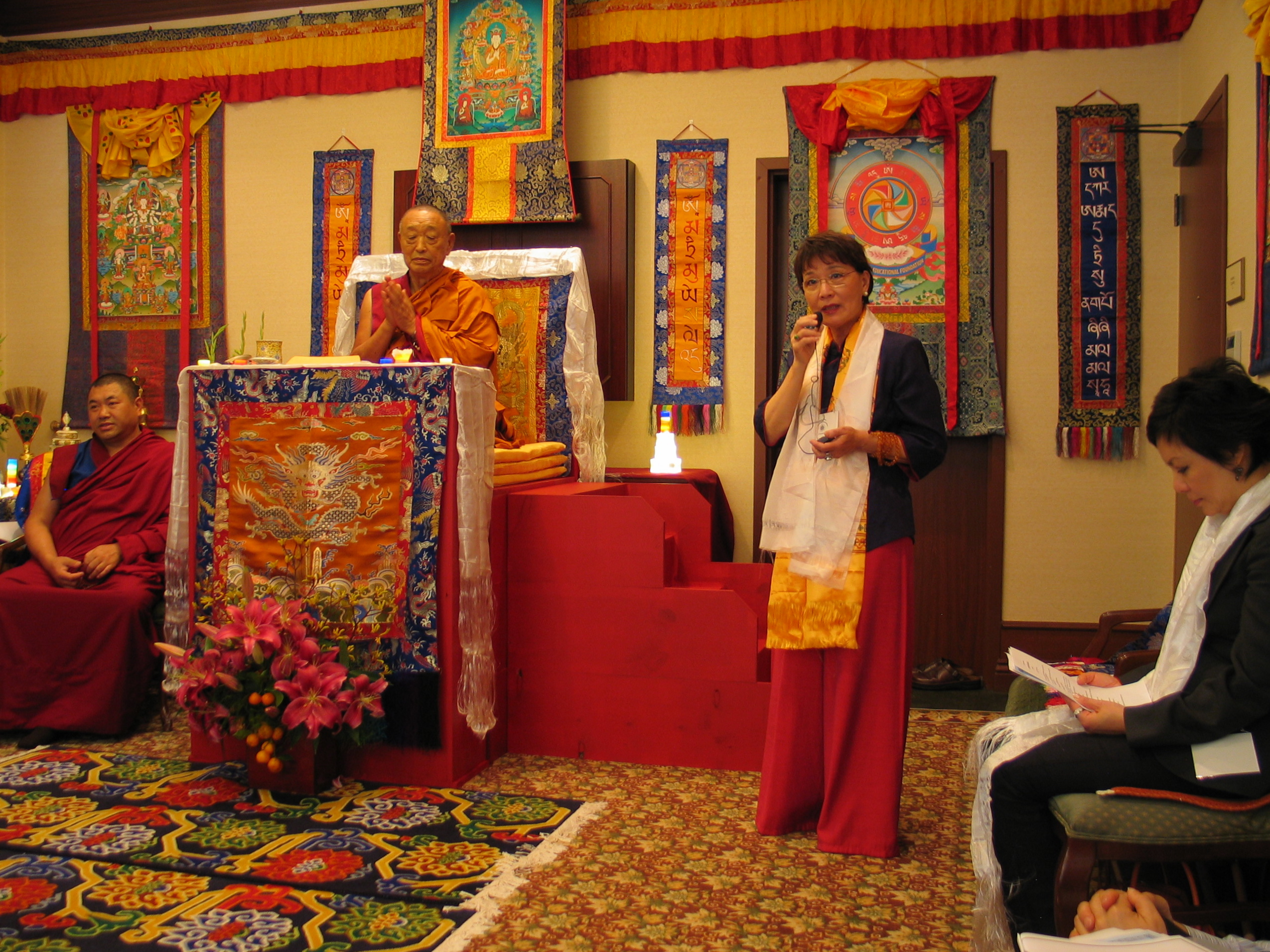 June 14, 2011, YYEF held a Blessing Event for World Peace presided by H.H. Menri Trizin Rinpoche where Jetsun Ma offered mandala on participants' behalf.
Yuan Yuan Educational Foundation's programs include:
Workshops / Seminars
Mentoring Study Program
Spiritual Cultivation Study Program
Heart to Heart Sacred Talk Program
Public Lecture Program
Visiting Scholar Lecture Program
Special Event Program
Images courtesy of Allyson Rickard. Click on images for larger views and detailed descriptions.
Workshops / Seminars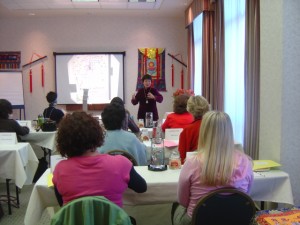 Jetsun Ma teaching a workshop
Instructed by Jetsun Darma Ho Lynn, Yuan Yuan Educational Foundation offers courses that explore a range of topics focusing on Chinese folkloric practices and feng shui. These courses serve to satisfy all who are called to establish or strengthen their understanding of the following:
Feng Shui: The Chinese art of establishing, creating, and adjusting our housing, working,and living environments in order to find a balance that will serve to harmonize and enhance our lives.
I-Ching (Book of Changes): An ancient fundamental book of Chinese philosophy that addresses concepts regarding the Bagua, Yin and Yang, Tao, Five Elements, and other practical applications.
Color: Transcendental color applications and its implications on our lives.
The Concept of Ch'i: The vital force within us and around us; ways we can nourish and adjust our Ch'i.
Holistic Healing: Alternative healing methods, with their basis in the Chinese folk culture, that improve our mental and physical health.
Transcendental Solutions: Sacred, spiritual ways to resolve difficulties in our lives.
Spiritual Cultivation / Meditations of the Bon Tradition: Meditations that cultivate spiritual development and are orally transmitted and guided.
Mentoring Study Program
This is Jetsun Ma's one-on-one mentoring program for select students. Teachings are designed for serious students wishing to create a strong foundation in feng shui, I-Ching, ch'i, color, holistic healing, transcendental solutions, and spiritual cultivation and meditation. This program offers current and future Feng Shui Consultants and Spiritual Workers a chance to blossom, under close supervision, so that they can become the best in their field. Classes are designed to meet individual needs.
Jetsun Ma presents her teaching materials skillfully, meeting the needs of students, at all levels of learning. After the completion of the mentoring relationship, she remains committed to you, guiding and assisting in your development.
Spiritual Cultivation Study Group Program (SCSG)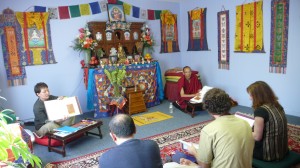 Jetsun Ma and Lama Youngdrung conduct an SCSG class
This is a Spiritual Cultivation Study Group that meets the second and last Sunday of every month, from 10:00 AM to 12:30 PM. By invitation only, students gather to study issues pertinent to their spiritual development. Teachings, discussions, and meditation and chanting practices from the Tibetan Bon tradition are conducted by Jetsun Ma, along with guest instructor, Lama Youngdrung, who is an ordained Bon monk and a student of Lopon Ponlob Trinley Nyima Rinpoche, Headmaster of the Dialectic School, Menri Monastery.
Heart to Heart Sacred Talk Program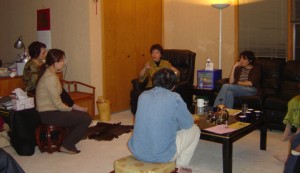 Jetsun Ma leading a Heart to Heart Sacred Talk
Master Teacher Jetsun Ma Ho Lynn is available for town hall-style presentations called, "A Heart to Heart Sacred Talk." This program is designed to be an intimate discussion into the sacred, transcendental world of knowledge, including feng shui, health, ch'i, I-Ching, transcendental solutions, spiritual cultivation, and more. The hosting party is responsible for organizing the event.
Public Lecture Program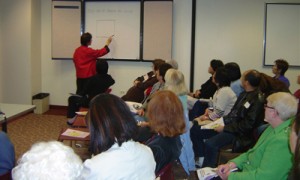 Jetsun Ma speaking at a public lecture
Jetsun Ma Ho Lynn imparts Public Lecture Programs to groups interested in learning more about feng shui. Examples of past hosting groups include architects, real estate agents, women's groups, spiritual groups, business entities, health professionals, and others. Public lectures are provided for English or Chinese-speaking audiences as well as with groups who require a translator to augment understanding.
Visiting Scholar Lecture Program
To enrich understanding about Chinese folk culture and customs, and / or to expand spiritual understanding and practice regarding different traditions and paths. Yuan Yuan Educational Foundation invites scholars, Masters, and experts in their specialized field, to share teachings at the Foundation's chosen location.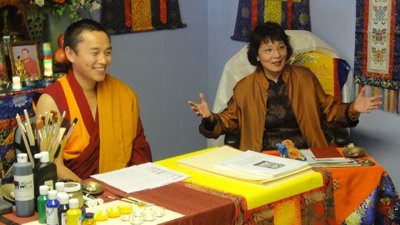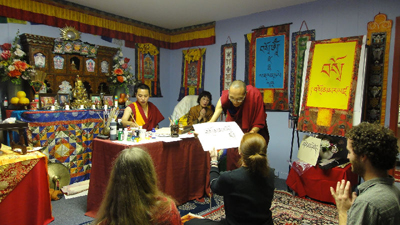 Speaker Geshe Chaphur Lhundup with Jetsun Ma and fulfilling each one's wish with a blessed calligraphy.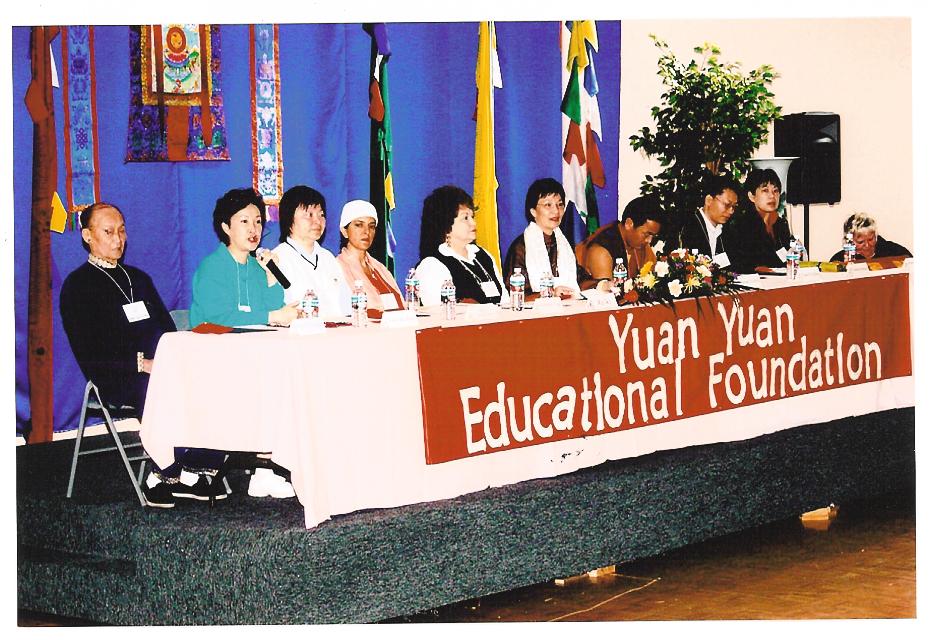 In 2006, YYEF celebrated its 10th Anniversary by holding a free public event on "Alternative Healings for a Healthy Body and Mind" with invited guest panelists.
Special Event Program
Following various folkloric cultural traditions—in essence, Chinese or Tibetan Bon traditions, Yuan Yuan Educational Foundation holds ceremonial events to welcome the coming of the New Year. This program presents the positive intention of experiencing a peaceful, harmonious, and trouble-free year for all participants. The optimal goal is to consciously give blessings and prayers for world peace.